To set the GLA, you need to go to Property > Buildings and select a Building to add the Gross Lettable Area in the measurements. The GLA is an important data and determinates the vacancy and occupancy of your property. However if you don't have this information in hands, you can still check the occupancy of your property based on the the units area that you have for the property. GLA can be set manually or automatically based on the units area.


Add the GLA automatically based in the unit surface areas
One way to add the GLA is by getting the data from its units. Assetti will sum up the surface areas of the units of the Building and set the sum to be its GLA. Before setting it, make sure you have added the units surface area to the properties.
Turning on this option will replace the GLA of all your properties to the sum of their units.
Before make the changes please make a backup of the system in case you want to restore it to before the changes. Assetti does not save historical data of the GLA so this step is very important in case you need to return the system to the previous version.
With admin permissions, click in your username and then go to Setting > Property > Building > Use sum of unit surface areas as building GLA. Then mark the checkbox and click save.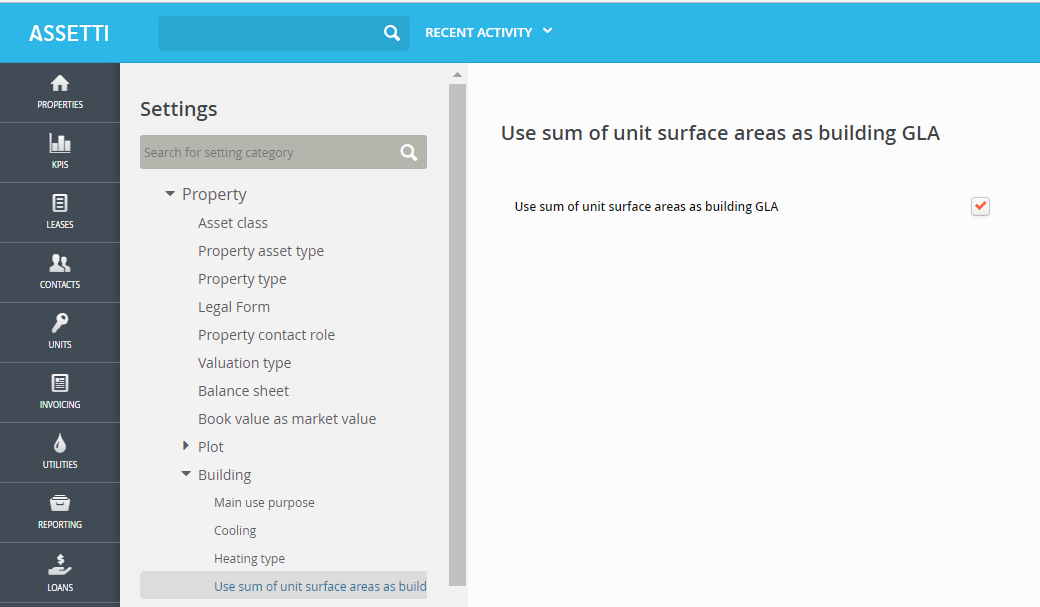 Now all your building will get the GLA from the units surface area.
To make sure all your units have the surface area in place you can export your units: Units > Export > Export Units and check for the column "area". If some area is missing, you can add to the spreadsheet and import back to Assetti by clicking your username > Import > Start New Import > Units.
Removing units will change the GLA to the the new lettable area,
Add GLA manually
Navigate to Property > Buildings and select a Building to add the Gross Lettable Area in the measurements. Remember that the Automatic GLA from the units settings mentioned above should be turned off. If the option is turned on it will replace all the GLAs of your system to the sum of the units area. In "Measurements" click on the pencil to edit and type the GLA for the building the click save.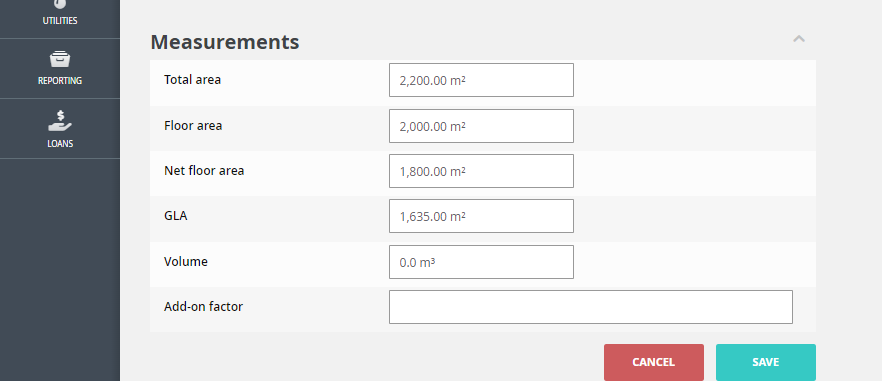 Remember that GLA doesn't save historical data, meaning the metrics will always use the current GLA informed in the building measurements.