You can export different types of data as spreadsheets via the user menu or specific views. Most export files, e.g. leases or OPEX, correspond to a default import template so you can use them for updating the data. Other export files such as valuation breakdown or reconciliation report, are considered as reports meaning that you can download the data from Assetti but the file cannot be imported.
User menu
Export functionality can be found in the user menu. There is no filtering or time selector so the spreadsheet contains e.g. all properties. Depending on your subscription type, there might be fewer export options.
Click on your username > Export
Select the file to export

Properties
SWOT
Leases
Invoices
Contacts
Units
OPEX
Market Values
Income and Costs
PnL
Book Values
Utilities
Repairs

You find the file in your downloads folder.
Additionally, you can export account map(s) and rent types.
Username > Account maps
Username > Rent types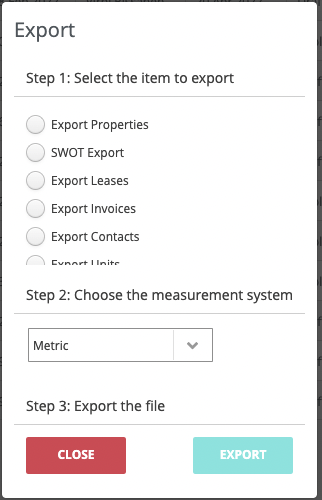 Exports and reports from the main views
The content of the export is view specific and reflects your filters in the user interface so you can narrow down your options e.g. based on time or validity, depending on the view. Some reports have also additional filtering options.
Export button can be found in the upper right corner of the main views.
| | |
| --- | --- |
| PROPERTIES | |
| EXPORTS | REPORTS |
| Properties | Properties Report |
| Leases | Valuation Breakdown |
| OPEX | Rent Roll |
| PnL | Rent Report |
| Market Values | Deposit Report |
| Income and Costs | CAPEX Report |
| Repairs | Valuation Report |
| Units | |
| Deposit | |
| Rents by Rent Type | |
| Rental Budget | |
KPIs, table view.
Each tab has unique export options that cannot be imported back to Assetti.
EXPORTS
Portfolio metrics
Property metrics
Unit metrics
Lease metrics
Tenant metrics
OPEX metrics
| | |
| --- | --- |
| LEASES | |
| EXPORTS | REPORTS |
| Leases | Rent Roll |
| Deposit | Deposit Report |
| Rents by Rent type | Invoice Report |
| Rental Budget | Reconciliation Report |
| Grid content (in the grid view), cannot be imported | |
| | |
| --- | --- |
| UNITS | |
| EXPORTS | |
| Units | |
| Leases | |
| Grid content (in the grid view), cannot be imported | |
| | |
| --- | --- |
| CONTACTS | |
| EXPORTS | |
| Contacts | |
| Leases | |
| | |
| --- | --- |
| INVOICING | |
| EXPORTS | REPORTS |
| Invoices | Deposits and Arrears |
| | Invoice Report |
| | Reconciliation Report |
| | |
| --- | --- |
| UTILITIES | |
| EXPORTS | |
| Utilities | |
LOANS

Data cannot be imported.

EXPORTS
Loans
Amortizations