Notes are the place for you and your team to record short notices. You can keep track of the strategic documentation related to your portfolio and assign tasks for your team members concerning a specific property, lease, unit or anything concerning your account.
If a note is assigned to you, you will get a notification of it when you login next time.
Must have for notes and tasks
Portfolios, properties, units and leases
Contacts as private individuals
Calendar events switched on in the Settings
Calendar events allowed by user(s)
Settings for notes
You must have administrator user rights to change Settings. This action will affect all users of your account.
Username > Settings > Calendar
Tick the box and save.
All users can manage their own notifications.
Username > User details > Notifications tab
Switch on "Send email about new notes".
Switch on "Send email about tasks that will overdue during the next 7 days", optional.
How to create a new note

Notes icon > +ADD button

In the pop-up, fill in the information


Title

Description

Type (note or task)

Assigned to users / Assigned to a group (only for tasks).

Link note to portfolio / property / unit / lease / tenant

Add a tag by typing a keyword and clicking + Add new tag, repeat if you want to add multiple tags.


Add attachments with drag and drop or by uploading them.

You can make the note private by activating the Make private button so that others users will not see the note.
Click Save to complete.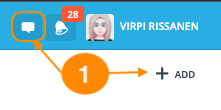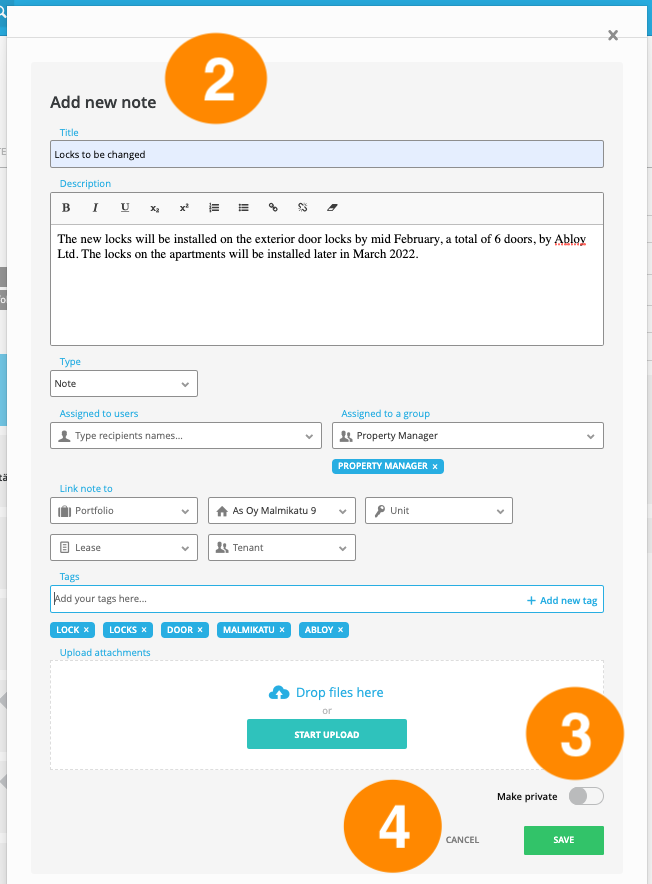 The difference between a task and a note
Using task will allow you to add a due date, status, and assign it to specific user(s) (a private individual) or a group based on their role, e.g. landlord.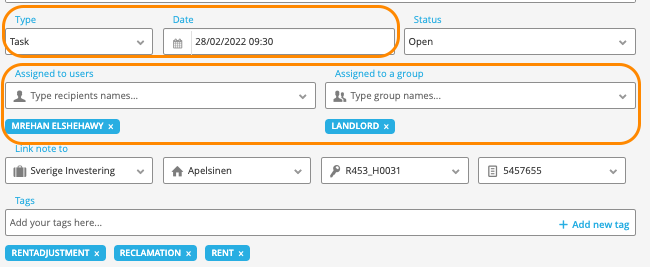 How to link notes
By linking a note, it will become visible to all users who have access to the linked portfolio, property, unit, lease, or tenant. If you don't link a note, it is only visible to you and the person who you may have assigned it to.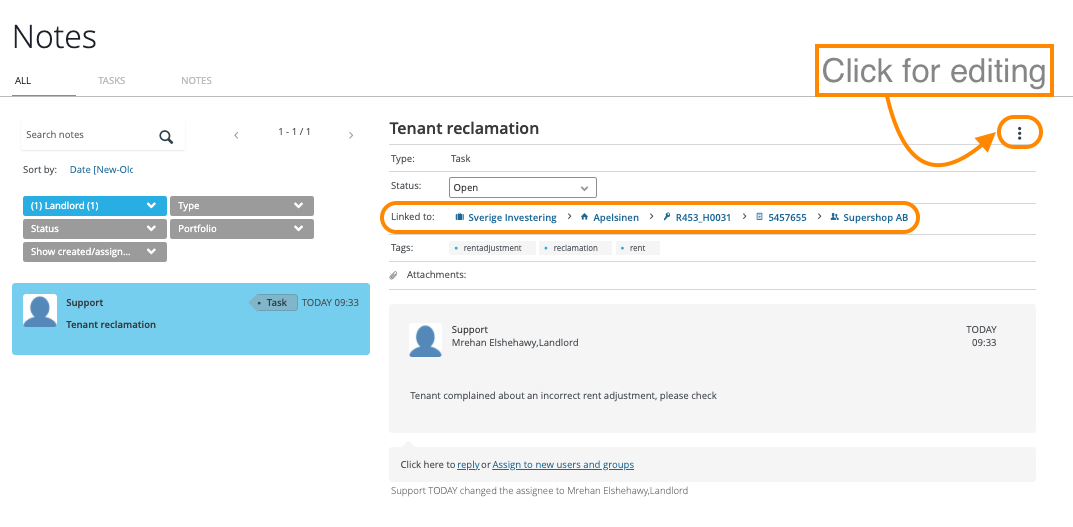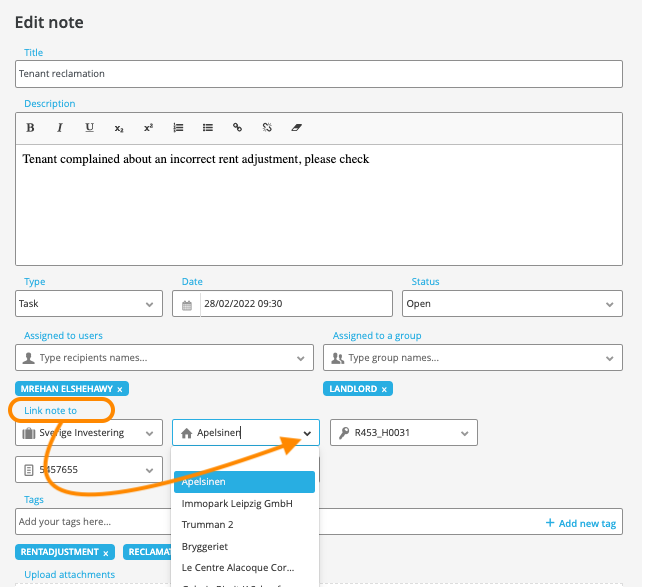 Viewing and searching notes
In the Notes view, you have separate tabs for All, Tasks and Notes.
You can search notes in the Global search, with a keyword e.g. the property name or tag, sort them by date or due date, or filter based on
assigned to

type

status

portfolio

assigned to me

created by me
The red line on the left side indicates that the due date is passed but the status is still open or in progress.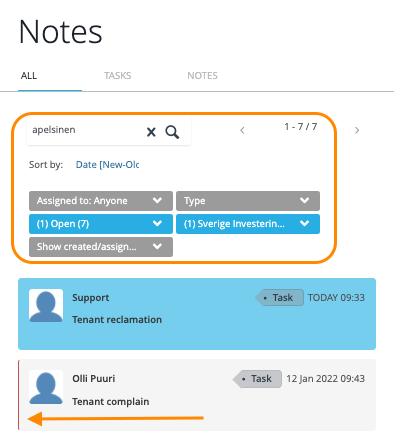 All linked notes can be found on the Notes tab of the property / unit / lease / tenant (contact).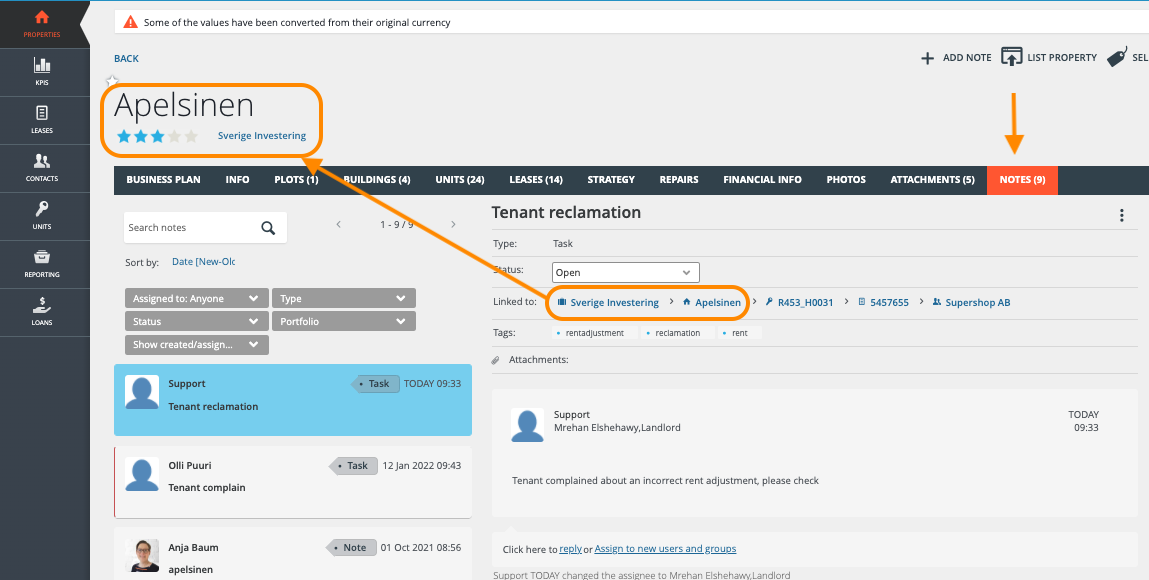 How to edit, reply or forward
As a basic rule, you can only edit notes and task that you have created. User with administration user rights can edit all notes and tasks.
Notes view > select the note
Click on the three dots and choose the action you wish to execute

Edit
Delete
Forward (notes only)
Assign to news and groups (tasks only)
Reply
Editing options for notes

Editing options for tasks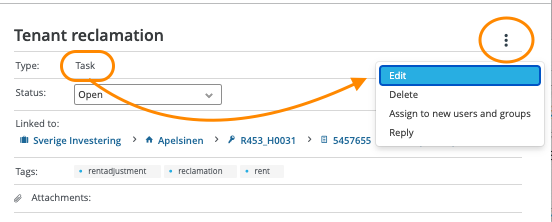 What are comments?

They belong to the notes and are shown on the Notes main view. You can only add comments for the reports of "Quarterly report template".