The table view is the basis of all KPI calculations. It is exportable as a spreadsheet and you can select the information to display.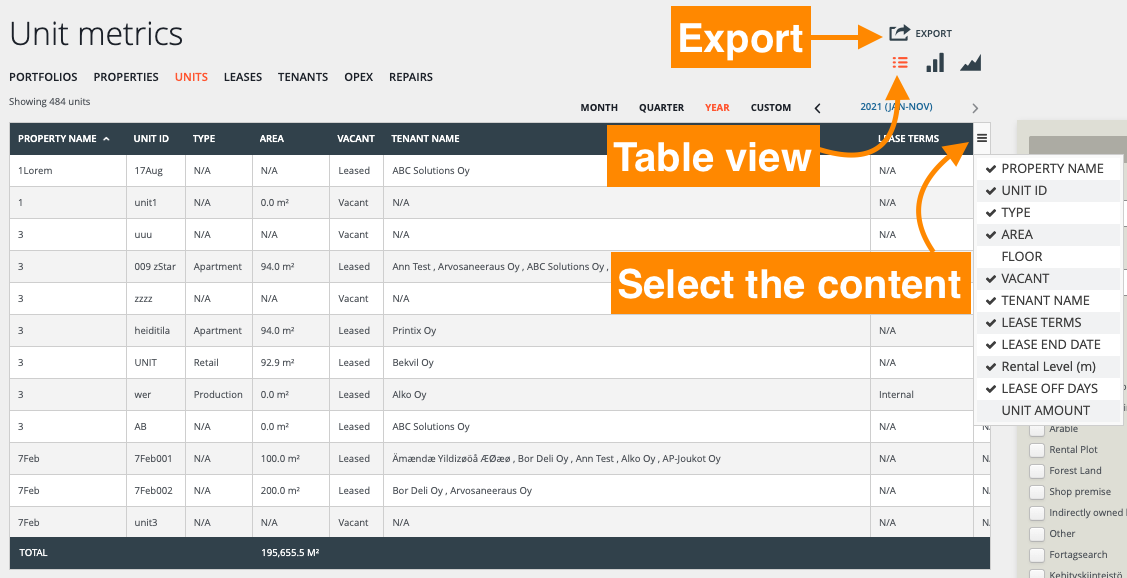 In the chart below you find the information for the unit metrics, how the values are calculated, and where the data is from. The Data Source columns helps you to check any incorrect or missing values.
Descriptions and calculations refer to the units selected and the result depends on the time selection (e.g. year 2020: lease off days are from Jan - Dec 2020).
Property
Name of the property to which the unit belongs
N/A
Properties > (choose a property)
Unit ID
Unique identifier of the unit
N/A
Units > (choose a unit)
Type
The category of the unit
N/A
Units > (choose a unit) > Info, Premise/Unit information
Area
The total surface area of each unit
N/A
Units > (choose a unit) > Info, Premise/Unit information
Floor
The floor of the building where the unit is located
N/A
Units > (choose a unit) > Info, Premise/Unit information
Vacant
Shows if the unit is vacant (Vacant=Yes) or leased (Vacant=No)
N/A
Units > (choose a unit) > Info, Lease information
Tenant name
The name of the tenant
N/A
Units > (choose a unit) > Tenants
Lease terms
The defined terms of the lease, e.g. fixed term or until further notice
N/A
Leases > (choose a lease) > Contract, Lease terms
Lease end date
The end date of the lease
N/A
Leases > (choose a lease) > Contract, Lease information
Rental level (M)
The average rent per m²/ft²
monthly rent / surface area = rental level
Leases > (choose a lease) > Contract, Summary
Lease off days
Number of days the unit is vacant between a finished lease and the start of a new one
∑ vacant days between contracts
Leases > (choose a lease) > Lease Information, End Date

Leases > (choose a lease) > Lease Information, Start Date
Unit amount

The amount that has been entered for the unit, e.g. the number of parking places in a parking garage. Contact support@assetti.pro if you want to have this functionality in your account.
N/A
Units > (choose a unit) > Info, Premise/Unit Information