The table view is the basis of all KPI calculations. It is exportable as a spreadsheet and you can select the information to display.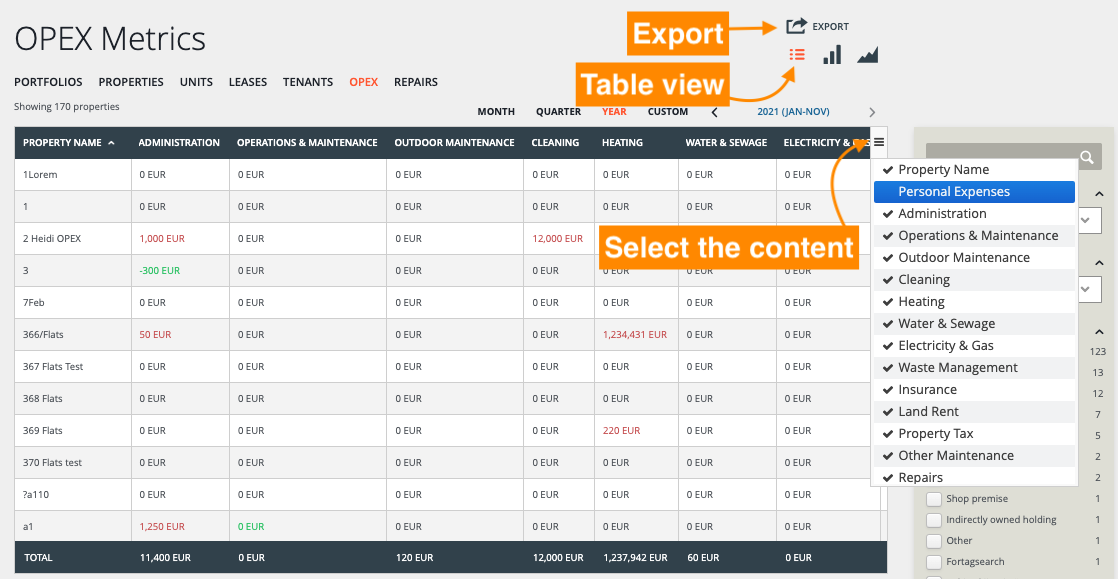 In the chart below you find the information for the OPEX metrics, how the values are calculated, and where the data is from. The Data Source column helps you to check and correct any incorrect or missing values.
KPIs take into account filters and the selected time period. For the current year the KPIs measure performance from January to the current month.
Property name
The name of the property
N/A
Properties > (choose a property)
Personal Expenses
Costs associated with personal expenses
∑ costs
Properties > (choose a property) > Financial info, Actual
Administration
Costs associated with administration
∑ costs
Properties > (choose a property) > Financial info, Actual
Operations & Maintenance
Costs associated with operations and maintenance
∑ costs
Properties > (choose a property) > Financial info, Actual
Outdoor maintenance
Costs associated with outdoor maintenance
∑ costs
Properties > (choose a property) > Financial info, Actual
Cleaning
Cleaning costs
∑ costs
Properties > (choose a property) > Financial info, Actual
Heating
Heating costs
∑ costs
Properties > (choose a property) > Financial info, Actual
Water and Sewage
Water and sewage costs
∑ costs
Properties > (choose a property) > Financial info, Actual
Electricity and Gas
Electricity and gas costs
∑ costs
Properties > (choose a property) > Financial info, Actual
Waste management
Waste management costs
∑ costs
Properties > (choose a property) > Financial info, Actual
Insurance
Insurance costs
∑ costs
Properties > (choose a property) > Financial info, Actual
Land rent
Land rent
∑ costs
Properties > (choose a property) > Financial info, Actual
Property tax
Property tax
∑ costs
Properties > (choose a property) > Financial info, Actual
Other maintenance
Other maintenance costs
∑ costs
Properties > (choose a property) > Financial info, Actual
Repairs
Repair costs
∑ costs
Properties > (choose a property) > Financial info, Actual
Utility charges
Utility charges
∑ costs
Properties > (choose a property) > Financial info, Actual
Service charges
Service charges
∑ costs
Properties > (choose a property) > Financial info, Actual
Capital charges
Capital charges
∑ costs
Properties > (choose a property) > Financial info, Actual