Depending on your role and permissions, users can make changes to the default settings in their accounts. To view your settings, open the user menu by clicking on your user icon in the top right corner; from here, a drop-down list will show all the options available to you.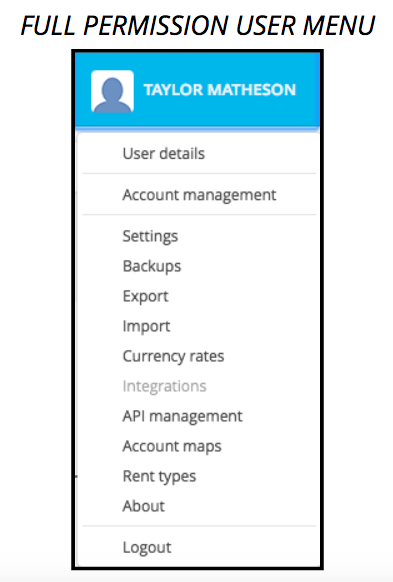 User Details: from here you can edit your account information (e.g. email, title, phone number) and preferences (e.g. currency, language), adding a profile image, reset password, and check your access rights. Please note that the only administrator has the rights to edit user's access rights.

Export: allows you to export mass data from Assetti. Learn more about data export.

Currency Rates: to keep transparency of your data, you can track the currency exchange rates for conversions in Assetti easily. Learn more about currency.

About: you can check which version of Assetti do you have through this option. See more about the different versions of Assetti.

Logout: select this when you want to sign out of Assetti.

Account management(*): you can view your organization's information, details on your licenses, users, and their roles with access rights. 'Account management' used to be called 'user management' and it will still contain users, roles, and a user's information from 'user management.' Now, the 'license' tab is now combined with the 'users' tab. So, if a new user is added, they will automatically be granted a license. However, if a company adds a new user, they will be charged for a new license. The cost of the new license will be based on their selected subscription and will appear on the next bill. However, if  a company holds a previous contract with Assetti, the price will be based on that contract.

Please notice: only the administrator has the rights to edit in 'account management.'See how to edit user rights.

Settings(*): you are able to edit default settings for your organization's accounts via this function. This allows you to add new types of property, unit, tenant, industry, etc. as a standard option in your data. Read more about settings.

Integration (*): These are account specific. If you are interested in utilizing integration in your account, please contact us for further details.  

Backups(*): you are able to back up your data using this function, e.g. if you wish to preserve an environment before you make an update, use backup so you can recover it once needed. Read about backups.

Import(*): allows you to import mass data to Assetti quickly. Learn more about data import.

          (*) These functions are available only to users with full permission, i.e. an account's admin.